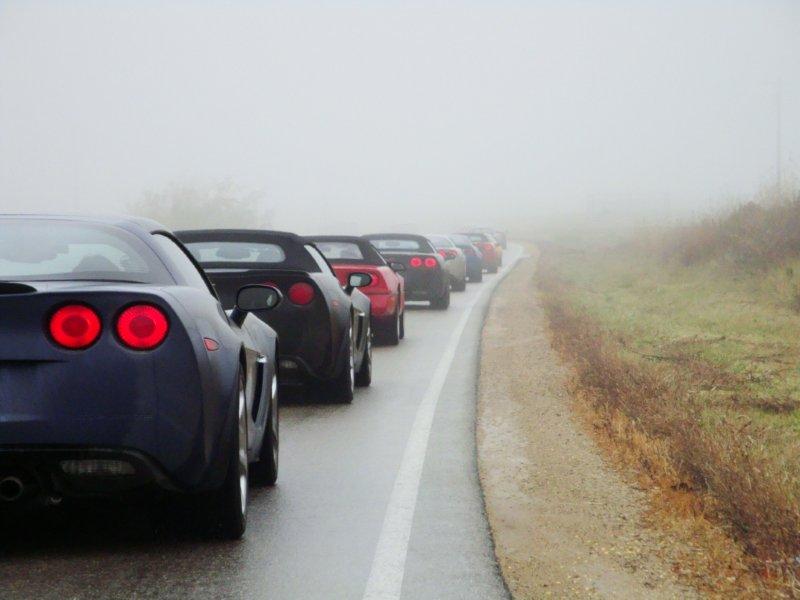 Welcome to Suburban Corvette Club of Minnesota Website
Suburban Corvette Club was established in January, 1970, led by a group of friends who were looking to get together for some social activities involving Corvettes.

The original club consisted of 12 members, and has grown to almost 200 members. In 1976, SCCM joined the National Council of Corvette Clubs. In 2005 the club hosted the NCCC annual convention in the Twin Cities and Brainerd.

SCCM contributes to several charities, the largest being Spina Bifida for the past 25 years. The club has also done special fundraisers for Cancer, Caring and Sharing Hands, and food shelf drives.

The membership is active in car shows, cruises, and charitable and social events that includes travel throughout Minnesota and Wisconsin.

We encourage you to join us on facebook, and attend a meeting, which is held the 3rd Tuesday of each month at Jimmy's Food & Drink, 1132 East County Rd. E in Vadnais Heights.
Hospitality
Hospitality Committee. Please contact Gloria Weeks if you know/learn of an SCM member that is dealing with a lengthy illness or has had a death in the family. Gloria is looking to the membership to be her eyes and ears and would appreciate being notified so she can send a card on behalf of the club. Thanks.

2013 Club Sponsored Events
Jun 2 - SCM's 28 Annual Plastic Fantastic All Corvette Car Show at Village Chevrolet, 16200 Wayzata Blvd. Show hours 11:00am to 2:30pm.  Registration opens at 9:30am. For additional information contact Greg and Barb Stattman at 952-435-6657 or gregstattman@charter.net.
Plastic Fantastic event flyer
Jun 4 – Board meeting at Jimmy's at 7:00 pm
Jun 7 – Hamburger, Fries & Catch-up at Lucky's 13 in Plymouth, 3000 Harbor Ln N 55447, 5pm start. Hosted by Gene & Loretta Larson. Contact Loretta @ 651-270-7135 for more details. Will be a sign up sheet at the May general meeting
Jun 8 - Corvettes at Elko. You must arrive by 4:30pm in order to be parked before the front gates open. We will have general admission tickets which allows us to sit anywhere. Our parade lap would be right before opening ceremonies at 6:45pm. The track asks that if people want to leave after the parade laps they do so at that time otherwise, we will have to stay parked until the event is over for public safety reasons. 15-25 cars is what the track could accommodate on the concourse. Elko has the usual concession stand food & drink, hamburgers, nachos, hot dogs, pop, beer etc. Roger Dahlquist will meet the group at the Lakeville Super Target parking lot (I35 exit 84, 185th st W. on the East side of I35) by 4:00pm. The Elko exit is then about 8 miles south.
Jun 9 – GMCCA 31st Annual All GM Car Show and Swap Meet at the Minnesota State Fair Grounds beginning at 9:00am. SCM will be working the swap meet area this year
Jun 15 – SCM and Chevy's Best 14th Annual Lunch & Car Show, open to all cars. Contact Shawn Hanna at 763-425-6550. Click here for event flyer
Jun 17 – SCM Drivers School and Lapping day at Brainerd (Short Track)
Jun 18 – General membership meeting at Jimmy's at 7:30pm
Jun 29 – SCM's Annual Firecracker Cruise hosted by Dave & Judy Juhl and Gene & Loretta Larson. Sign up at the May & June general meetings

Jul 2 - Board meeting at Jimmy's at 7:00pm
Jul 4 – Thursday is the 4th of July Holiday
Jul 13 – SCM's Margarita Party on Saturday at Susan LaCour Doty and Don Doty's. Bring a dish to share and BYOB if margaritas are not your favorite drink. (Note we will not have a H,F & CU this month due to the 4th of July weekend and our Margarita Party on the 13th)
Jul 16 – General membership meeting at Jimmy's at 7:30pm

Aug 2 - Hamburger, Fries & Catch-up TBD. Contact Greg Stattman if you can host this event
Aug 6 – Board Meeting at Jimmy's at 7:00pm
Aug 17 – Cars Under the Stars at Village Chevrolet from 6:00 to 9:30pm. Chair is Phil Brunt. Details will follow
Aug 20 – General membership meeting at Jimmy's at 7:30pm

Sep 3 - Board meeting at Jimmy's at 7:00pm
Sep 6 - Hamburger, Fries & Catch-up TBD. Contact Greg Stattman if you can host this event
Sep 16 - SCM Drivers School and Lapping day at Brainerd, Long Track. Contact Rick Ohland (651-206-8670) or Jon Thompson (763-263-9587) for details
Sep 17 - General membership meeting at Jimmy's at 7:30pm
Sep 21 - SCM's Fall Rallye
Sep 22 - Spina Bifida Picnic, Long Lake Regional Park, New Brighton. Our chair this year is Shawn Hanna. Details to follow
Sep 28 - Annual Fall Wine Cruise hosted by Gene & Loretta Larsen and Dave & Judy Juhl

Oct 1 - Board meeting at Jimmy's at 7:00pm
Oct 4 - Hamburger, Fries & Catch-up TBD. Contact Greg Stattman if you can host this event
Oct 11-13 - SCM's FALL COLOR RUN
Oct 15 - General membership meeting at Jimmy's at 7:30pm

Dec 7 - SCM's Annual Awards Banquet

2013 Non-Club Sponsored Events
May 25
– Crow River Corvettes Car Show in Hutchinson. More info coming soon
May 27
– 39th Annual Memorial Day Car Show at the Blacksmith Lounge in Hugo. Sponsored by the North Star Chapter Studebaker Drivers Club. $10/vehicle with gates open at 8:00 am
Jun 1
– Dam Days Car Show at Morristown, MN. 10:00 am to 3:00 pm.
Jun 6–9
– Corvette Adventures in the Dells @ Chula Vista Resort in Wisconsin Dells.
www.corvetteadventures.com
Jun 9
- Route 66 Corvette Club Corvette Show. Registration 8:30-noon.
Event flyer & registration form
Visit the website for more information
www.route66corvetteclub.com
Jun 21–23
– Back to the 50's at the Minnesota State Fair Grounds.
www.msra.com
Jun 21–23
– Vettes in the Park sponsored by the University of Okoboji Corvette Club, Lake Okoboji, Iowa
Jun 22
– Show Your Ride Car Show at Winona Steamboat Days. Registration opens at 9 am, with the Show from 11:00 to 4pm. Entry fee of $10.
www.winonasteamboatdays.com
Jun 24–28
– NCCC 54th Annual Convention in Bowling Green, Ky.
www.corvettesnccc.org
Jun 28–30
– Bloomington Gold Corvette Show and Judging, Champaign, IL at the University of Illinois assembly hall grounds. This is a new location for the event.
www.bloomingtongold.com
Jun 29
– All Chevy car show @ Stillwater Motors hosted by Northstar Camaro Club of Minnesota
Jul 7
– Jimmy's 7th Annual Car Show, 1132 East County Road E, Vadnais Heights. Registration opens 8:00 am.
www.visitjimmys.com
Jul 12
— Pan-o-Cruise Night Lakeville,MN (35,000 spectators) 6:30-8:00PM
Jul 14
– Ramsey County Fair Car Show, White Bear Ave., St. Paul. 12-4 pm
Jul 16-20
– Sioux Falls Corvette Club sponsors their 42nd Annual Black Hills Classic. The 16 and 17 are held in Sioux Falls (Vettes at the Falls), caravanning to Spearfish on the 18th, with the Black Hills Classic held on the 19 & 20.
www.blackhillscorvetteclassic.com
Jul 18–21
– Elkhart Lake/Road America Vintage Event featuring historic CAN-AM Series Corvette Marque.
www.roadamerica.com
Jul 19–21
– Car Craft Summer Nationals at the Minnesota State Fairgrounds.
www.mnstatefair.org
Jul 20
— Woodland Hill Winery and Corvette Show, Delano, MN Noon to 4:00pm.
Event Flyer
Jul 26–27
– Classic Corvettes of Minnesota Mystic Lake Casino Corvette Car Show at Prior Lake, MN.
www.classiccorvettesmn.com
Jul 27
– Cold Spring's 33rd Annual Cars by the Creek car show. Gates open at 7:30 am. Registration $10. For details email
wes.eisenschenk@gmail.com
Jul 31 - Aug 3
– 40th Annual Vettes on the Rockies, sponsored by the Looking Glass Corvette Club. Winter Park Resort in Winter Park, Colorado.
www.lgcacorvette.org
Aug 8–11
– Road America, Elkhart Lake, WI. Grand-AM Rolex Series (Saturday)/American LeMans Series (Sunday). For additional information email
info@roadamerica.com
Aug 17
– Corvettes at Stillwater, sponsored by the St. Croix Valley Corvette Association. 9:00 am to 1:00 pm. $12 per vehicle entrance fee. Stillwater Motors, 5900 Stillwater Blvd.
www.stcroixvalleycorvettes.com
Aug 23–25
– Corvettes at Carlisle, Carlisle, PA.
www.carsatcarlisle.com
Aug 24
— 2nd Annual Ovarian Cancer Research Motorcycle/Classic Car Run, Isle MN. Registration 9:30am, finishing at Pine City $20 per person. Pre-register before July 15th and receive a free t-shirt. Contact Renee Fochs at 763-221-9985 or
reneef@midco.net
Sep 7
- 2013 Vettes on the River, Dubuque IA. Hosted by Mid-West Corvettes and Key City Corvette Club.
2013 Vettes On The River event flyer
Sep 19–22
– Corvette Funfest's 20th Anniversary, sponsored by Mid America Motorworks, Effingham, IL. Get your reservations in early.
www.corvettefunfest.com
.