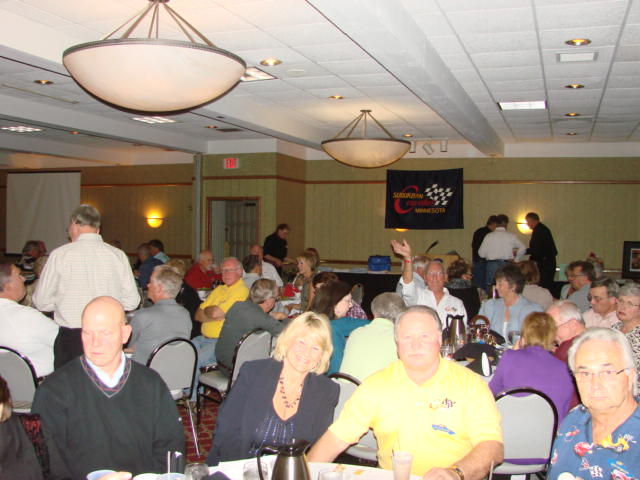 2012 Fall Color Run Saturday Night Hospitality
Driver School & Lapping Day
CONSTRUCTION NOTICE:
PLEASE NOTE: the exit to Clearwater may be closed do to reconstruction. If closed, the exit at Hasty is the detour, about 5 miles before Clearwater. Please check the MNDOT web site before leaving home.
SUBURBAN CORVETTES OF MINNESOTA
Suburban Corvettes of Minnesota will have two Driver School and Lapping Days at Brainerd International Raceway in 2013. These driver schools will provide you with the opportunity to develop your driving skills in the controlled environment of a closed circuit and then they can be used for normal street driving, autocrossing or racing. It's also a chance for the experienced racer to get lots of track time.
Whether the sun shines or it rains, the Driver School and Lapping goes on. If the sun shines, it is a great time to practice the racing line, braking points or just different corner entry or exit points. If it rains, you will really learn handling techniques for adverse conditions.
There is classroom and braking exercises for the beginner, novice or semi-experienced driver. It is your chance to learn the basics and also how your car reacts to driver inputs. Ride with experienced drivers and see how they handle their car. The experienced drivers will ride with you and work with you to be more confident while you drive your car. You should take full advantage of the opportunity to use these experienced drivers and gain some of there knowledge.
Bring your own lunch, as the concession stand may not be open. We will not break for lunch, so you will need to eat when you can.
You will need to bring:
- Helmet – minimum Snell 2005 (SCM DOES NOT have loaner helmets)
- Non-synthetic material shirt – preferably long sleeve
- Non-synthetic material pants – NO SHORTS
- Shoes that tie – NO SANDLES
- Your lunch and beverages – NO ALCOHOL
- Full tank of gas
- OPEN MIND
June 17, we will be running the 2.5 mile competition track.
Sept. 16, we will be running the 3 mile Donnybrook Track.
Come join the EXCITEMENT of the long, fast straight away and the TECHNICALITY of the short track at BIR.
Rooms are blocked for "Suburban Corvettes" (until June 1 and Sept 1) at
ARROWWOOD Lodge At Brainerd Lakes
6967 Lake Forest Road
Baxter, MN. 56401
877-687-5634, 218-822-5572
www.arrowwoodbrainerd.com
NEW ON WWW.MYAUTOEVENTS.COM, YOU CAN NOW REGISTER and PAY ON LINE
COME SEE!!!
NEW WIDER TRACK FROM CORNER #1 THROUGH CORNER #8!!!
GO TO www.brainerdinternationalraceway.com AND WATCH THE VIDEO!!!
Drivers School Registration Form
The Cost
If you check on the cost of other driver schools or with other clubs, you will find that this is a very inexpensive way to get up to 5 hours of track time per day. It is an exceptional value!
There is a limit of 60 drives or each school. Be sure to sign up early so that you don't miss the opportunity
Fill out the registration form, check the day or days you will attend, enclose a check payable to SUBURBAN CORVETTES OF MINNESOTA for the correct amount and mail to: Rick Ohland, 2355 N. Lake Miltona Drive NE, Miltona, MN 56354.
If you have questions, contact Rick Ohland (651) 206-8670, email rickohland@aol.com or
Jon Thompson (763) 263-9587, email rsgear@charter.net

Please check with your auto insurance, you may not be covered while on the track
Please check in as soon as you arrive to avoid the line during the Driver's Meeting. Thank you.
The cost:
June 17, 2013
2.5 mile
Competition Track
Sept. 16, 2013
3.1 mile
Donnybrook Track
Each individual school
$230
$260
After May 14, 2013**
$255
After August 13, 2013**
$285
**dates subject to change
The Schedule
7:15 - 7:45AM
CHECK IN & REGISTRATION
7:45AM
DRIVER MEETING – MANDATORY
8:30 – 9:30
CLASSROOM FOR BEGINNERS / NOVICE
9:30 – 10:30
BRAKING EXERCISES FOR BEGINNERS / NOVICE
9:00 – 9:30
TRACK OPEN FOR GROUP "A" EXPERIENCED DRIVERS
9:30 – 10:00
TRACK OPEN FOR GROUP "B" EXPERIENCED DRIVERS
10:00 – 10:30
GROUP "A" EXPERIENCED DRIVERS
10:30 – 11:00
GROUP "B" EXPERIENCED DRIVERS
11:00 – 11:30
GROUP "N" TRACK OPEN FOR BEGINNERS / NOVICES ONLY;
EXPERIENCED DRIVERS WILL RIDE WITH YOU
11:30 – 12:30
TRACK CORNER WALK (TRACK CLOSED)
12:30 – 1:00
GROUP "A" EXPERIENCED DRIVERS
1:00 – 1:30
GROUP "B" EXPERIENCED DRIVERS
1:30 – 2:00
GROUP "N" BEGINNERS / NOVICES
(ASK EXPERIENCED DRIVERS TO RIDE WITH)
2:00 – 2:30
GROUP "A" EXPERIENCED DRIVERS
2:30 – 3:00
GROUP "B" EXPERIENCED DRIVERS
3:00 – 3:30
GROUP "N" BEGINNERS / NOVICES
3:30 – 5:00
TRACK OPEN FOR ALL GROUPS